April 2014 Edition
CONTINUUM Q AND A
Rachel Nichols: I mean, for me it was when I read that I was really excited about it. I was really excited about the idea of this weird kind of potential, we're certainly not on the same side but maybe we're not total enemies anymore kind of friendship to form and my relationship with Garza really is interwoven throughout the season and it is – it does take a lot of twists and turns. It was something really, really fun to shoot as well. Luvia and I would have a great time together and I like when we get to have that opportunity for uncertainty in a relationship which we do quite frequently but this is the first time aside from the few times I had an alliance-ish
More
Brian Henson Q And A
"What we say is your creature has to do this performance for – whatever it is – two minutes and it has to get through that two minute screen test and look great. But the truth is if it falls apart right after the cameras cut – if it falls to bits, you still win because the point was to bring that creature to life in the most believable and most intriguing way "
More
MIRA JOINS SKIES
See on
Scoop.it
-
Sci-Fi Talk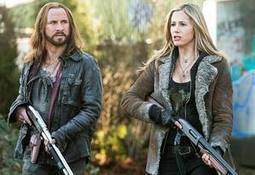 Get ready for a gun-toting, wisecracking Mira Sorvino. The Oscar winner joins TNT's Falling Skies this summer for a multiepisode arc as... (Get ready for a gun-toting, wisecracking @MiraSorvino on #FallingSkies! See on
www.tvguide.com
A GRIMM ROMANCE
LOVE GRIMM STYLE
Bree Turner: Well the proposal – I mean the whole episode was super fun for us to shoot.There was – we really packed in the whole episode from the roller-coaster promotions, from the night of the proposal and then getting engaged and then the parents coming in the end – it's really filled. Silas Weir Mitchell: The writers really make it as complicated as they possibly can.And so as soon as you think everything is fine, you know, the parents show up and it gets extremely difficult. But yes the shooting of that scene was really, it was fun. More
WAREHOUSE GOODBYES
AARON AND SAUL
Aaron Ashmore: Well I think, like most of the show and I think what makes the show great, is that it's a little bit of all of that in every episode. I mean, the humor's always there. There's definitely some, you know, some things that need to be resolved amongst some of the characters, particularly some things with Claudia and her sister and Artie – Artie's involved in – what that.So I mean, that stuff's a little bit sort of heavier dealing with all that stuff, but there's always the humor. There's always light details even in funny pieces More
THE LAST SHIP
Opens with a global catastrophe that nearly decimates the world's population. Because of its positioning, the Navy destroyer
U.S.S. Nathan James
avoids falling victim to the devastating tragedy. But now the crew and its captain must confront the reality of their new existence in a world where they may be among the few remaining survivors.
THE LAST SHIP TRAILER:
http://www.tntdrama.com/series/the-last-ship/
Visit
This Site
To Get More Cool Content For Your Blog
Tweet
Eric Dane stars as Captain Tom Chandler, a career Navy man who is authoritative and decisive, but also fair and courageous. A born leader and a loving father and husband, Chandler is respected and loved by the men and women under his command. The Last Ship also stars Rhona Mitra (Strike Back) as Rachel Scott, a strong-willed, intelligent and fearless paleomicrobiologist assigned to the Nathan James to investigate the cause of billions of deaths worldwide. Adam Baldwin (Firefly, Chuck) is Slattery, the ship's second-in-command who worries deeply about his family and occasionally clashes with Dane's Captain Chandler over the best course of action. The Series also stars Travis Van Winkle (Heart of Dixie), Charles Parnell (Pariah), Christina Elmore (Fruitvale Station), Sam Spruell (Snow White and The Huntsman) and Marissa Neitling (Leverage).
BOMBAY SAPPHIRE 2014 IMAGINATION AWARD WINNERS
Two graffitti artists get more than they bargained for when their art work turns against them.
A neat space odyssey where time travel is legal and you can go back three minutes in time
A couple get to see a different view of their relationship
Sometimes past relationships follow us around.