DEFENDING JESSE
See on
Scoop.it
-
Sci-Fi Talk
Director of
Superman
v
Batman
movie says he 'knows what these characters need from a mythological standpoint' and also reveals fresh details of the
Batsuit
• Full coverage:
Man of Steel
2. See on
www.theguardian.com
NEXT STAR CROSSED
See on
Scoop.it
-
Sci-Fi Talk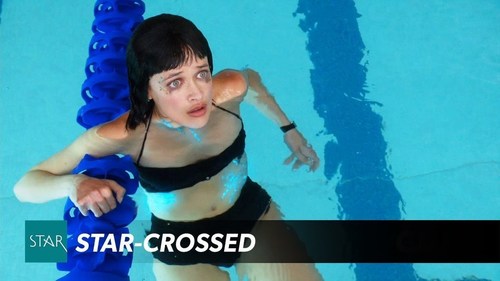 Roman is protective when it comes to his sister, Sophia. Watch a preview with Executive Producer Adele Lim and don't miss an all new Star-Crossed Monday at 8... See on
www.youtube.com
CAMPBELL AND HAYES
THE LURE
Billy Campbell: Well speaking for myself, I was extremely attracted to the – you know, the sort of situation, the genre, the situation. I'm a big fan of the – both the Thing movies, the you know, the Howard Hawks one and the John Carpenter one, and Andromeda Strain is one of my big favorite films and so I was very attracted to the situation Jordan Hayes: I loved that – I loved the characters. They were obviously very smartly written and very intelligent characters. Yes, it really felt, despite being a science fiction show there was a huge emphasis on the dramatic nature of the writing, and that really attracted me as an actor. More
Tweet
Lemieux And Ghanimé Of Helix
DISCOVERING CHARACTERS
Catherine Lemieux: I think what came from the script and what most of the writers gave to Doreen was definitely a kind of attitude. You know, and I kind of – the idea of someone having the character to just deal with working with disease and being able to relocate places like the Arctic takes a particular kind of personality trait. Mark Ghanimé:  It's just like trying to discover who you are and as a person you go through changes your life. And when you're 20 you're a different person than when you are when you're 40. You know, there is that process.   More
Visit
This Site
To Get More Cool Content For Your Blog
THE RAP ON THRONES
See on
Scoop.it
-
Sci-Fi Talk
Yep, Catch the Throne is pretty good. But it turns out I'm a sucker for songs with "Fuck the Lannisters" in the lyrics. Read more... See on
io9.com
WALKING DEAD WATCH
From
www.undertheradarmag.com
The Walking Dead - Death Watch: Which Characters Will Survive Season 4?Under the Radar Mag (blog)Look at an original cast photo from season one of The Walking Dead, and you'll get a sense of how short and brutal life is in the zombie apocalypse.
PREMIUM HOLIDAY SPECIAL
Subscribe to my premium podcast for six months or one year and get 50% off. Just enter code: SCIFITALKTHANKS . On My Premium Page at
Get Premium Access 
Offers is extended to 2/28/2014 For the first three hundred subscribers only.
HELIX SET VISIT
MEET THE TEAM
Cameron Porsandeh: (Helix Creator) When I first started thinking about Helix, there were a few things that I wanted to do.I wanted to tell a viral story. I think each generation has a fear.The one before us was that computers were going to take over the world.Before that were nuclear weapons, but for our generation viruses are in the human zeitgeist as a threat. More
HELIX'S ZAGORSKY AND MAEDA
A NEW TYPE VIRUS
Steve Maeda: Yes, our watch word over the season, or some of our watch words were not zombies. Kyra Zagorsky: I think also since the show is based in real science, there're real life epidemic scares out there throughout history where there're these huge viruses that have wiped out huge populations and so we're dealing with something that the CDC hasn't seen before, but it comes from a virus. More
A GRIMM ROMANCE
LOVE GRIMM STYLE
Bree Turner: Well the proposal – I mean the whole episode was super fun for us to shoot.There was – we really packed in the whole episode from the roller-coaster promotions, from the night of the proposal and then getting engaged and then the parents coming in the end – it's really filled. Silas Weir Mitchell: The writers really make it as complicated as they possibly can.And so as soon as you think everything is fine, you know, the parents show up and it gets extremely difficult. But yes the shooting of that scene was really, it was fun. More
DIVERSIFIED WESEN
NEW FOLKLORE
Reggie Lee: The creators are so wonderfully collaborative. They actually came to me and said, "Do you know any of – do you know any Filipino folklore?" I said, "Yes. We have actually quite a bit." And so I gave them a list and it included the aswang — which is probably the most popular one in Filipino folklore. So it is something – it was always told, like, you know, amidst relatives, it's told now, it's believed in. As a matter of fact, very big in the Philippines. So it's very real.As to what I saw and how real that is for me, I mean as a kid you're growing up  More
HERO HELP
Jaimie Alexander's Lady Sif will be featured on an upcoming episode of ABC's Agents of S.H.I.E.L.D. Check out a bunch of promotional photos of the Thor: The Dark World actress alongside Agent Coulson and the rest of the AoS team. See on
www.comicbookmovie.com
LOST GIRL SEASON 4 Q AND A
THROWING CURVEBALLS
Kris Holden-Ried: It was a good challenge, you know. But that's the thing that we love Lost Girl is it's always throwing you curve balls and, you know, things that you have to adjust your performance for. Zoie Palmer: Because I know I'm only actually truly in it for about four and a half seconds at the end there, but that whole sort of situation, which I can't speak about at all felt like sort of we were  More
BEING HUMAN Q AND A
SEASON 4 PREVIEW
Sam Witwer: I appreciate the fact that everyone is swinging for the fences this year with the aim of either hitting a homerun or breaking the bat. I mean that's basically what we're up to this year. There's – I mean a lot of risks were taken and the writers are going for it. And, you know, I – to be completely honest I don't know that this season is as even as seasons three, when we succeed it's a homerun. More
BITTEN Q AND A
NEW WOLVES IN TOWN
Laura Vandervoort: I actually received an offer for the role — which was amazing, first of all. And ended up speaking to J.B. on the phone just to get an idea of the premise of the show and how it would look and how the wolves would be done.And so we spoke for about an hour. And I heard how passionate he was about the project – he's our executive producer. And it just sounded like something More
BITTEN 2 Q AND A
SEXY SERIES
J.B. Sugar: Yes I mean again that's paying honor to the eroticism that's just layered into the Otherworld series. And it really does, as Greyston says, inform the primal nature of our characters. And it kind of goes hand-in-hand.So it really does work within our world. And it's organic to our characters. Greyston Holt: Yes I mean that's – J.B. put it well. It's definitely not gratuitous. It's just – it just, it's primal  More
DARK HORSE BUFFY SEASON TEN
ROBERT'S NEW DUSK
See on
Scoop.it
-
Sci-Fi Talk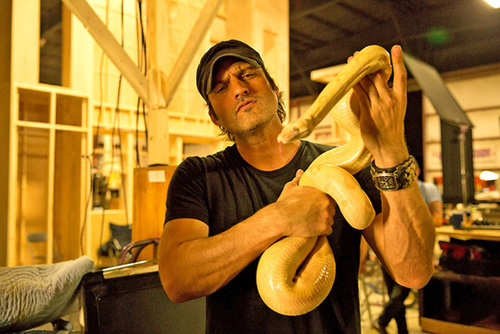 Austin maverick filmmaker Robert Rodriguez is set to launch his small screen reboot of his cult-favorite film From Dusk Till Dawn, See on
insidetv.ew.com